We know that you are busy and it can be a lot to keep track of all of the free resources available, so here is a page that you can bookmark and always come back to! You can also visit the Spectrum Net Designs Blog with even more marketing resources and tools!
Do you have a website but no one seems to be looking at it? Do you want toget more views on your website but you don't know what steps to take? Checkout some of the things you can implement in order to get more traffic!
September 13, 2023
Maintain a Routine Schedule for Social
So you're on Facebook and have a business Page that represents your company, but you're not seeing the results you thought you would with organic social posts?! That's where paid ads come in! 
August 31, 2023
Based on what your original content goals are, you need to decide whether your content is working Whether you are taking this task on alone or with a team its important to understand what is it. 
June 6, 2023
Merry Christmas from our family to yours!
Another Year Comes to a Close and We Have so Much to Be Thankful For. We
Want to Thank You Very Much for Your Help in 2022. Without You, We Wouldn't Be Able to Continue to Do What We Love and That is To help Our Customers Design a Website that Tells Their Story, Plus Help Our Wonderful
Clients With their Marketing Objectives.
10 Ways to Prepare for a New Year of Content Marketing
No matter what type of marketing you do, we'd guess this last year was filled
with obstacles and triumphs. You also probably saw some solid wins and faced
some new challenges, and now you need to prepare for a whole new year!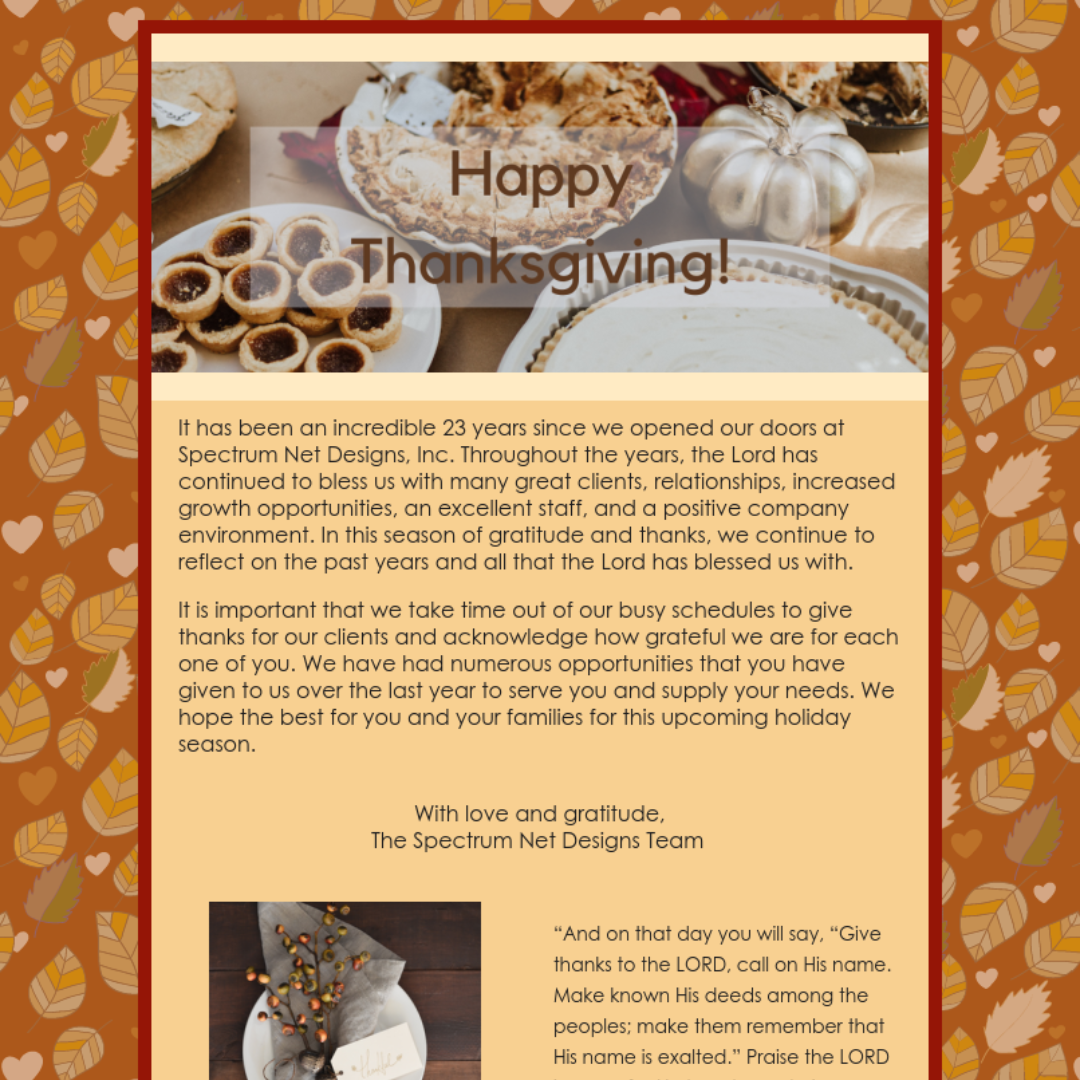 Happy Thanksgiving from our Family to Yours!
It has been an incredible 23 years since we opened our doors at Spectrum Net Designs, Inc. Throughout the years, the Lord has continued to bless us with many great clients, relationships, increased growth opportunities, an excellent staff, and a positive company
environment. In this season of gratitude and thanks, we continue to reflect on the past years and all that the Lord has blessed us with.
What is a Lead Generation Campaign 
Lead generation is the process of generating interest and demand in a company's brand, products, or services using inbound and outbound marketing strategies, such as online advertising and email marketing. Running a lead generation campaign is an essential process for business-to-business (B2B) and business-to-consumer (B2C) companies for many reasons.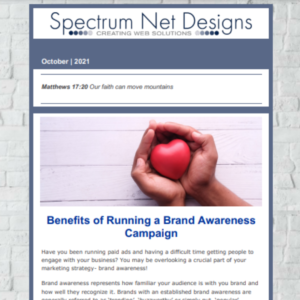 Benefits of Running a Brand Awareness Campaign 
Have you been running paid ads and having a difficult time getting people to engage with your business? You may be overlooking a crucial part of your marketing strategy- brand awareness!
Brand awareness represents how familiar your audience is with you brand and how well they recognize it. Brands with an established brand awareness are generally referred to as 'trending', 'buzzworthy' or simply put, 'popular'.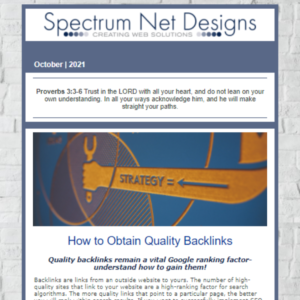 How to Obtain Quality Backlinks
Backlinks are links from an outside website to yours. The number of high-quality sites that link to your website are a high-ranking factor for search algorithms. The more quality links that point to a particular page, the better you will rank within search results.
If you want to successfully implement SEO for your website and obtain relevant organic traffic, building backlinks is something you should be implementing.
3 Main Advertising Campaign Objectives 
Before you start the process of creating an ad campaign, you will need to consider what your business goals are. It is important to understand what you want to achieve out of your campaign in order to choose the right objective. Your advertising objective is what you want your audience to do when they come across your ad.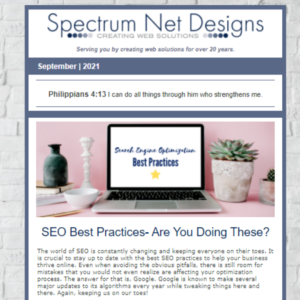 SEO Best Practices- Are You Doing These?
Good SEO practices are also called 'white hat', and these tactics comply with industry standards that follow the SEO guidelines. These practices are followed by those who care about their long-term ranking strategies, which you should keep in mind can take up to six months to materialize but will generate more solid results down the road.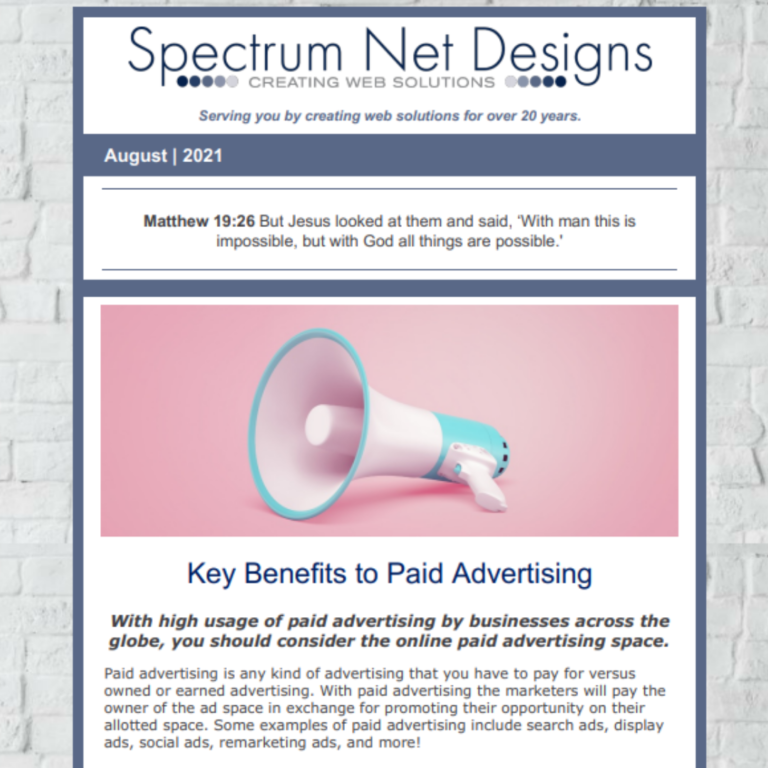 Key Benefits to Paid Advertising 
Paid advertising is any kind of advertising that you have to pay for versus owned or earned advertising. With paid advertising the marketers will pay the owner of the ad space in exchange for promoting their opportunity on their allotted space.  Some examples of paid advertising include search ads, display ads, social ads, remarketing ads, and more!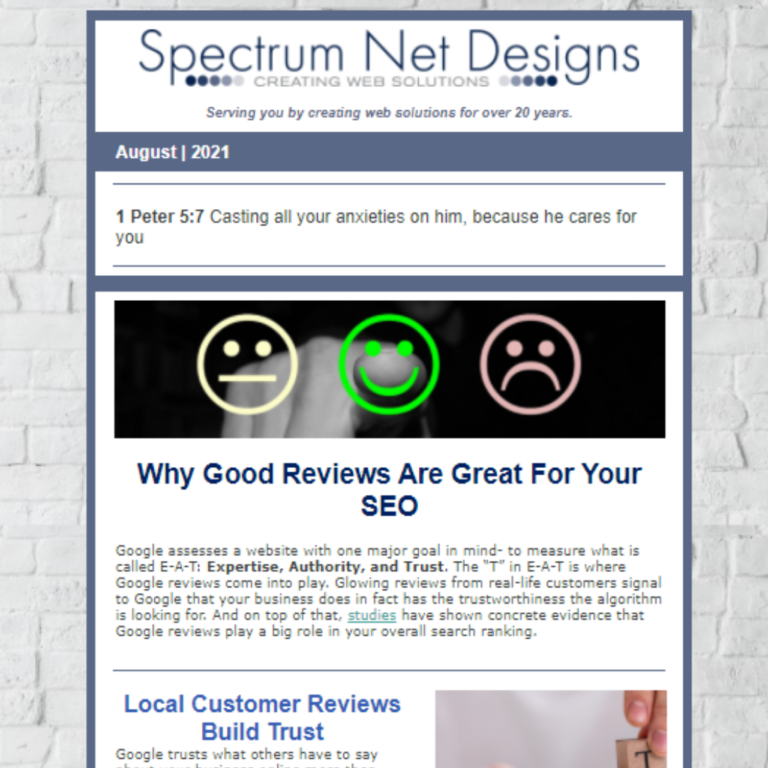 Why Good Reviews are Great for Your SEO
Google assesses a website with one major goal in mind- to measure what is called E-A-T: Expertise, Authority, and Trust. The "T" in E-A-T is where Google reviews come into play. Glowing reviews from real-life customers signal to Google that your business does in fact has the trustworthiness the algorithm is looking for. And on top of that, studies have shown concrete evidence that Google reviews play a big role in your overall search ranking.
2021 SEO Trends 
A strong SEO strategy will help generate qualified traffic to your website. We all know in the world of SEO that tactics for a successful strategy are ever evolving. What once was a great ranking factor can quickly change and become a bad practice which you should stay away from. That is why we have put together a quick list of 5 trends that we are seeing for a successful SEO strategy in 2021.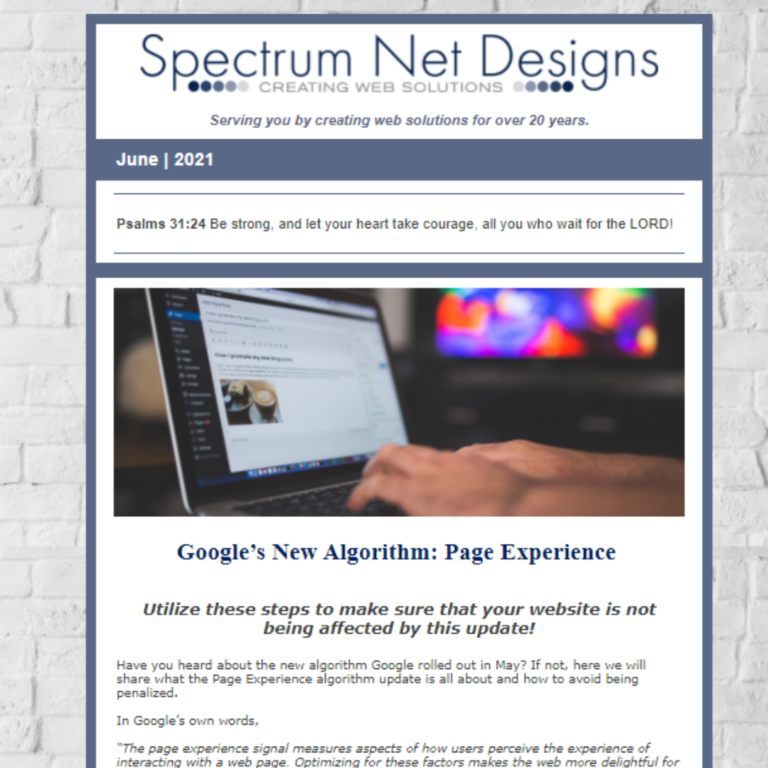 Rich Snippets & D0 They Help My SEO?
The evolution of the search engine results page containing a lot of rich content on the page is the new norm. There are knowledge graphs, featured snippets, carousels, product lists, and of course, the Google Ads. You can not only focus on SERP rankings anymore you need to maximize your listings position. You can do this by utilizing rich snippets to optimize your listing and control more of the page and your user's attention.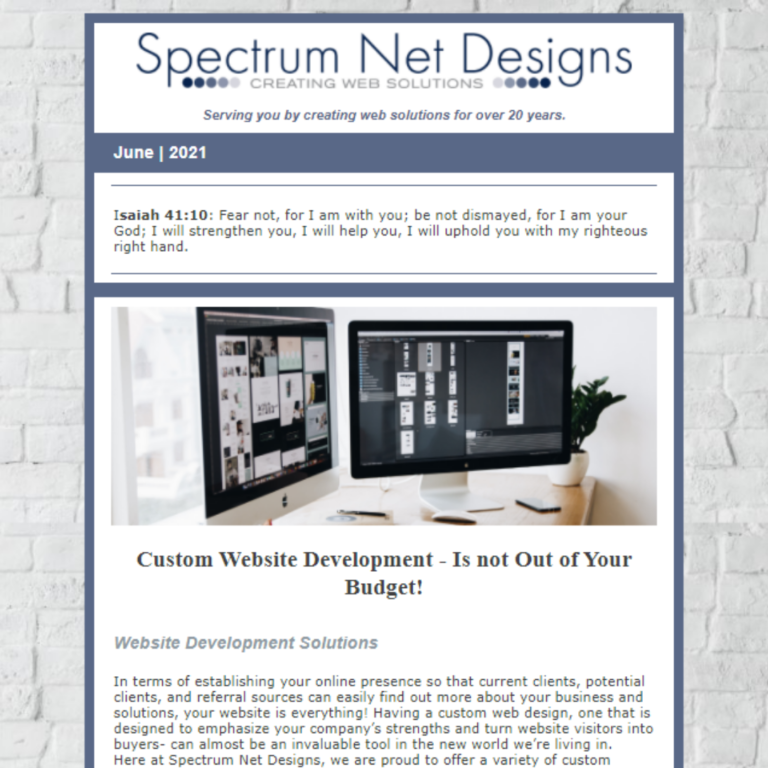 Custom Website Development- It Is Not Out of Your Budget! 
In terms of establishing your online presence so that current clients, potential clients, and referral sources can easily find out more about your business and solutions, your website is everything! Having a custom web design, one that is designed to emphasize your company's strengths and turn website visitors into buyers- can almost be an invaluable tool in the new world we're living in.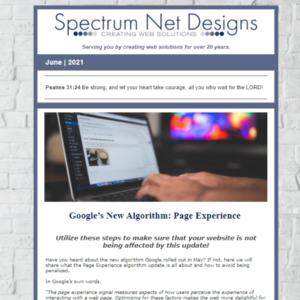 Google's New Algorithm: Page Experience 
Have you heard about the new algorithm Google rolled out in May? If not, here we will share what the Page Experience algorithm update is all about and how to avoid being penalized. In our words, they are looking at how user-friendly your website is for both, mobile and desktop. The reasoning for this update is to ensure that top ranking sites do not incorporate experiences that frustrates the user.
Social Media Marketing: Facebook
Are you interested in getting started with Facebook Ads for your company?
First, let us go over the importance of them and why this might be ideal for
your current business objectives. Paid advertising on Facebook is gaining
popularity which impacts the reach of your content and delivers to your perfect
audience for maximum return.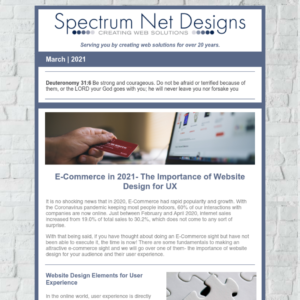 E-Commerce in 2021: The Importance of Website Design for UX
It is no shocking news that in 2020, E-Commerce had rapid popularity and growth. With the Coronavirus pandemic keeping most people indoors, 60% of our interactions with companies are now online. Just between February and April 2020, internet sales increased from 19.0% of total sales to 30.2%, which does not come to any sort of surprise.
More than just Digital Marketing and Web Design
While website development and digital marketing make up a huge part of what we do best, we also are pretty good at some other things as well. Not only do we create awesome websites and brainstorm solid digital marketing strategies, we also do branding, graphic design, promotional design, and logo design.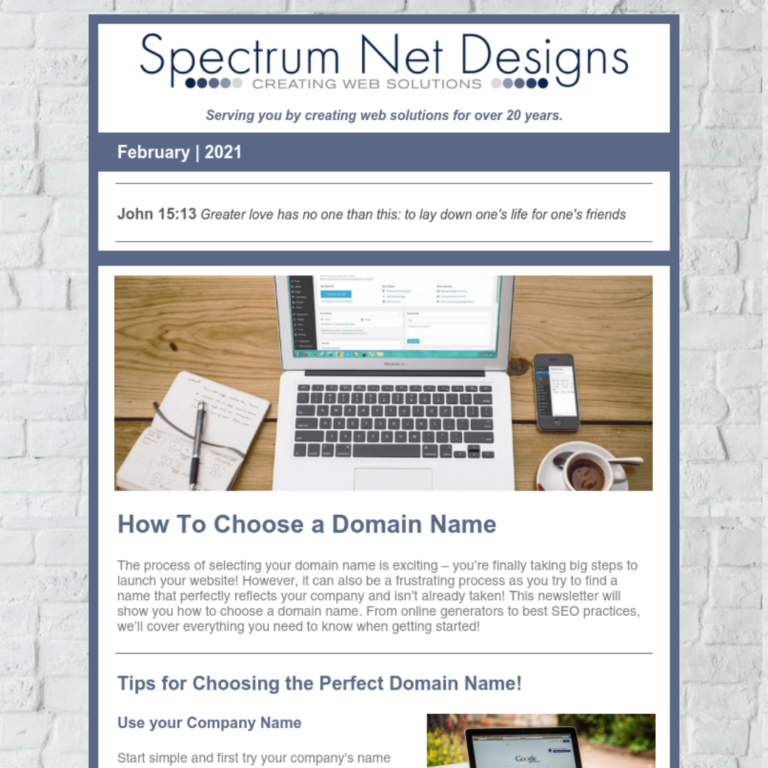 How to Choose a Domain Name
The process of selecting your domain name is exciting – you're finally taking big steps to launch your website! However, it can also be a frustrating process as you try to find a name that perfectly reflects your company and isn't already taken! This newsletter will show you how to choose a domain name. From online generators to best SEO practices, we'll cover everything you need to know when getting started!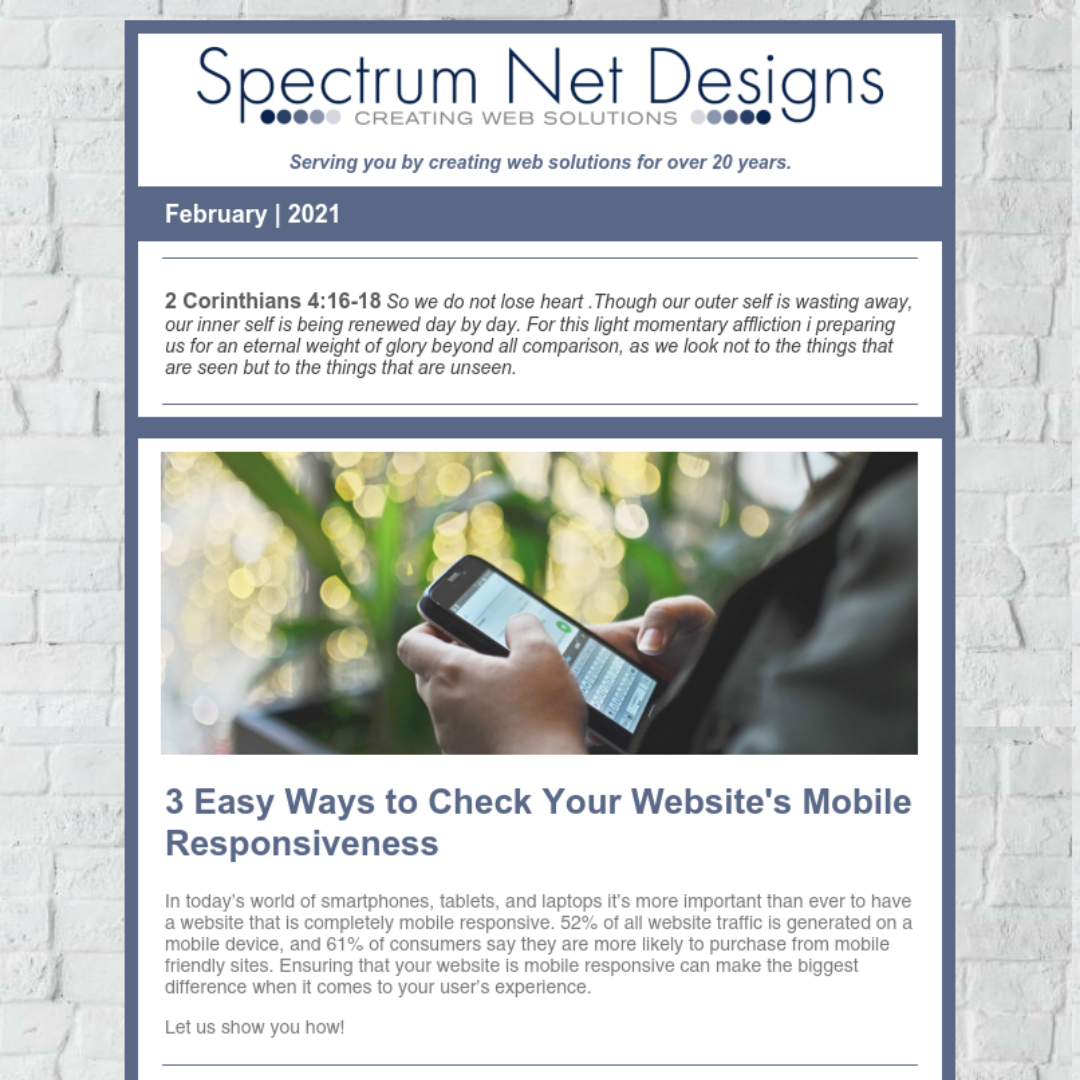 3 Easy Ways to Check Your Website's Mobile Responsiveness 
In today's world of smartphones, tablets, and laptops it's more important than ever to have a website that is completely mobile responsive. 52% of all website traffic is generated on a mobile device, and 61% of consumers say they are more likely to purchase from mobile friendly sites. Ensuring that your website is mobile responsive can make the biggest difference when it comes to your user's experience.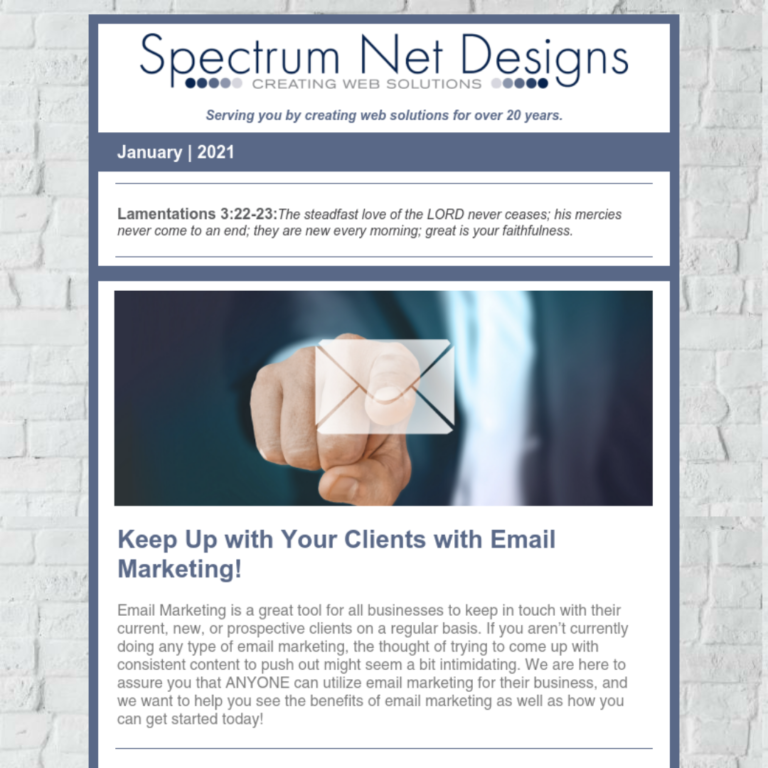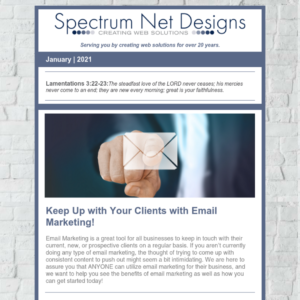 Keep Up with your Clients with Email Marketing
Email Marketing is a great tool for all businesses to keep in touch with their current, new, or prospective clients on a regular basis. If you aren't currently doing any type of email marketing, the thought of trying to come up with consistent content to push out might seem a bit intimidating.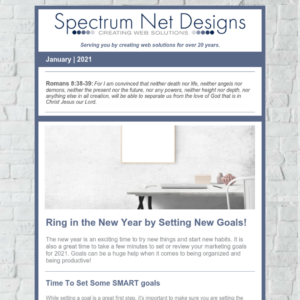 Ring in the New Year by Setting New Goals
The new year is an exciting time to try new things and start new habits. It is also a great time to take a few minutes to set or review your marketing goals for 2021. Goals can be a huge help when it comes to being organized and being productive!
Happy New Year from Spectrum Net Designs
Everyone, we made it! We have gotten through 2020 and we think that's a great reason to set off some confetti! While this year has had its ups and downs, we know that we have been able to grow stronger through it all. And
now we get to look to the future and anticipate what 2021 will bring!
Merry Christmas from Spectrum Net Designs
Christmas is here! We wanted to take a moment to wish all of you a very Merry Christmas. It has been a long year, but through all the craziness of 2020 we still have so much to celebrate. We hope that you can take some time this
holiday season to sit back and relax with your loved ones.
Create a 2021 Marketing Strategy You're Proud of!
The New Year is approaching quickly which means your business should have some new goals for 2021. This past year has thrown countless curve balls at
all of us as we adapt to the quickly changing world – which is all the more reason to analyze your marketing strategy and look for ways to not only improve but also to prepare for whatever might come next.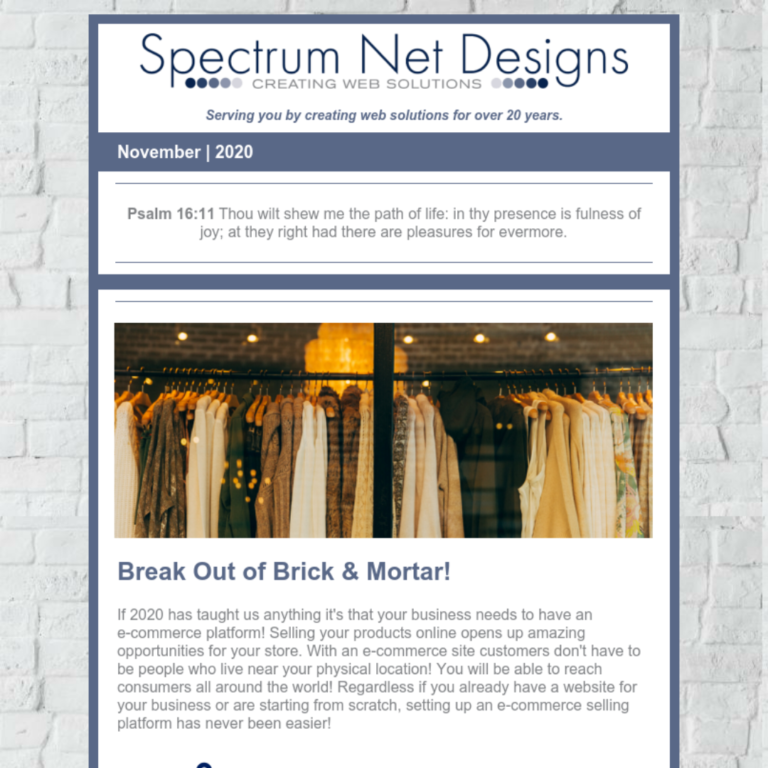 Break Out of Brick & Mortar
If 2020 has taught us anything it's that your business needs to have an e-commerce platform! Selling your products online opens up amazing opportunities for your store. With an e-commerce site customers don't have to be people who live near your physical location! You will be able to reach
consumers all around the world!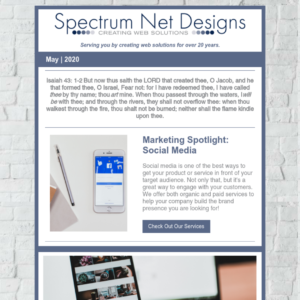 Marketing Spotlight: Social Media
Social media is one of the best ways to get your product or service in front of your target audience. Not only that, but it's a great way to engage with your customers. We offer both organic and paid services to help your company build the brand presence you are looking for!
Marketing Spotlight: Branding & Design
The way that you present your company to the world matters! Having a cohesive and consistent design across your branded materials builds a professional
image for your business and helps with brand recognition. We offer a wide variety of branding and graphic design services to help your company stand out.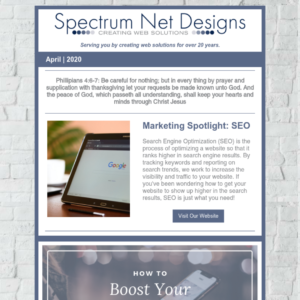 Marketing Spotlight: SEO
Search Engine Optimization (SEO) is the process of optimizing a website so that it ranks higher in search engine results. By tracking keywords and reporting on search trends, we work to increase the
visibility and traffic to your website. If you've been wondering how to get your website to show up higher in the search results, SEO is just what you need!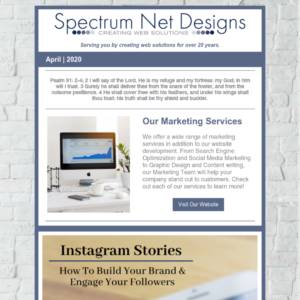 Our Marketing Services
We offer a wide range of marketing services in addition to our website development. From Search Engine Optimization and Social Media Marketing to Graphic Design and Content writing, our Marketing Team will help your company stand out to customers. Check out each of our services to learn more!