Graphic Design & Creative Services​
Spectrum Net Designs does more than just create winning websites. We are your full-service, graphic identity and marketing collateral shop.
Good logo design can be hard to find. There are 1000's of businesses and individuals that claim to offer the best. How do you choose? Well, first and foremost, take a look at their portfolio and gallery to see what type of work they actually do. You will see from our portfolio that we participate in all types of industries as well as company size projects, so there is nothing to small or to large for us to handle.
Take your project to the next stage with Spectrum Net Designs.
Spectrum has been in the print design industry since 1999, and we continue to grow and expand with projects each day. Our designers can match up your branding and colors of your website, for promotional and marketing materials, business cards, presentation folders, business cards and more. Don't forget about your advertising needs! We can work with you to create ads for your local paper, or online ads for Google AdWords to Facebook targeted ads.
Contact us today to see what we can do for you.
Whether you are looking for a traditional catalog or an exciting alternative to a boring brochure, we can create a unique, attention-grabbing piece sure to impress customers and increase sales.
Spectrum Net Designs has been in the business of providing original and memorable promotional design for businesses for nearly 18 years. You can count on our experienced customer service as well as our hands-down quality results. We specialize in the following products:
-Event Banners & Large Flyers-Signage (builders, realtors….)
-Trade-show Booth Graphics-Catalogs & Brochures
-Clothing and other wearable items
-Calendars, Mouse-pads, Mugs, etc.
If you don't see something on the list that you are interested in, please contact us and we can get you a quote.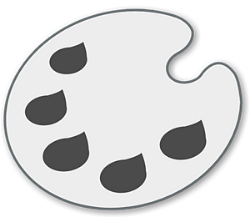 Graphic design is one aspect of your website and marketing that you shouldn't hold back on. This is where your brand comes to life. It is usually the first impression of your company that people experience, so make it memorable and professional. Using our combination of experience and knowledge, our team collaborates on all projects to ensure we make the most out of your project. Spectrum can take your scribbles and ideas and make it a reality.
Learn more about how graphic design can make you stand out from the crowd.
We understand importance of solid corporate identity design and branding strategy.
We will work closely with you to create your:
Logo and Identity
Letterhead and Stationary
Business Cards
Postcards and Self-Mailers
Catalogs and Sales Sheets
Brochures
Presentation Folders
Flyers & Sales Sheets
"If YOU THINK GOOD DESIGN IS EXPENSIVE,
YOU SHOULD LOOK AT THE COST OF BAD DESIGN."
-RALF SPETH, CEO JAGUAR