How to Create Attention Grabbing Graphics with Canva
A Few Tips to Create Eye-Catching Graphics in Canva
When you are able to tackle successfully designing social media graphics for your own company or clients, you are able to accomplish many objectives:
• Easily capture your audience's attention
• Effectively share your message
• Engage with your Audience
• Increase leads and conversions
• Improve your Brand experience.
These objectives are crucial for you to successfully demonstrate through your graphics. Competition is tougher than ever on the online world, and it starts with creating attention grabbing graphics.
Yes, we understand that not everyone is a skilled designer and not all businesses have the resources to employ a professional graphic designer. That is where, Canva, comes to the rescue!
Canva is known as a graphic design platform that allows users to create social media graphics, presentations, posters, resumes, and much more. The best part is they provide you with free templates, options for images, filters, icons, shapes, and fonts- essentially everything you need to create attention grabbing graphics.
To help you maximize all their useful features, we're outlining a couple of ways to create your next great graphic using Canva.
Browse Canva's Free Templates
Before you do anything, it is important to understand your content goals and objectives for your graphic design. Which social media channels will you be using and what details you would like to incorporate though your graphic.
Canva provides users with a variety of professionally made templates and elements that you can incorporate into your graphic. If you use, Canva Pro, you have access to everything for free. If you choose to use the free version, take some time to browse the many templates and check out all the available features before you decide if it is something you would like to purchase.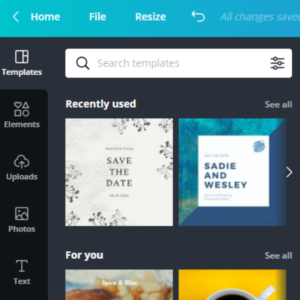 Use Consistent Brand Color and Fonts
With the endless possibilities within Canva, it is easy to lose site of your content goals and not stay consistent with your brand colors and fonts. On Canva's basic color picker, you can input your brand's hex code to directly match your branding colors, which allows for consistency amongst graphics. It is not mandatory to use the same colors over and over, using similar ones across your posts in all your social channels can help you stand out and become recognizable online as well. By using consistent colors throughout your graphics, that will provide an identity and cohesiveness for your brand identity.
A great tool to see what colors go good together is Canva's Color Tool. Try it out!
Learn more about creating a cohesive brand style guide by downloading our FREE eBook. 
Similar to your brand colors giving your brand consistency, fonts bring out your tones and personality of your message. That is why it is important to strategically pick fonts based on what you are trying to say and the tone of your message. Try to pick fonts that are close to your existing marketing pieces. If you cannot find the exact one in Canva, look at the typography of your current pieces and try to find similar fonts with the same serif's, sans serif, alignment, etc.
Try to stick to one or two fonts at a time when creating your attention-grabbing graphics. When you use two fonts you can create contrast and really grab the attention of your audience. It's a best practice to apply one font family and use their variant- italic, bold, or condensed.
Use Quality and Relevant Images
A huge contribution to creating attention grabbing graphics, right off the bat, is the image you have selected. Your image much catch your audience's attention upon first glance, or they will keep scrolling. By choosing excellent visual content, you will keep your audience interested in what you have to say and on your page longer. If you like the image but the colors do not cut it, you can use Canva's photo adjustments option to tweak the contrast, brightness, saturation, and tent.
Have fun with this side of your marketing duties! It's time to relax and let your mind be creative and experiment with all the features Canva has to offer. There are many features within both the free version and pro version to help your designs stand out again your competitors.
With all the features that are offered to you within Canva, it's important to stay true to your design goals and strategy. Just because you have access to different fonts, colors, layouts, icons, etc. does not mean you need to use them all. Keep your graphics clean, simple, and cohesive!
It does not matter if you are a beginner or a seasoned designer, these simple, actionable, and effective tips can help create eye-catching graphics that will outperform your competitors! Canva is a great tool to utilize to help your designing skills and create engaging content.