Custom website design by Spectrum Net Designs means that your website will be developed to meet your users specific needs. And since you know your users requirements best, we will work with you closely to customize your website from start to finish with your customers in mind.
Effective web design grabs the attention of your audience & makes a statement!
Since your website is your users first impression of who you are, it must be eye-catching and memorable as well as professional. The graphics must not only be outstanding, they must be spectacular.
Once they land on one of your pages, the user must be motivated to want to further explore. Therefore, the navigation through your site must be easy to follow, making it simple for them to find what they are looking for. In addition, your message and content must not only be easily understood, it must be engaging. Once the user is engaged, they are more likely to complete a clear call-to-action.
We strive to have a simple, easy to follow, quick process for you to get your new or updated website up on the world wide internet. Once this process is complete, we guarantee that you will be pleased with the end result and proud to have a website you can call your own.
This process involves developing the website in a way that the site properly loads to the device screen in use so that the user can view and navigate the website with ease. To be clear, all types of websites are able to be viewed on mobile devices, but there are substantial benefits to having a mobile responsive web design. 
Benefits of a Responsive Website
Automatically sizes to the proper size based on the device being used. No need to use your fingers to zoom in on information to read.
Saves on time and cost management for updates and maintenance to one site instead of managing two websites.
Responsive design will lead to more traffic and converted leads to your website because your users will have an enhanced user-friendly experience.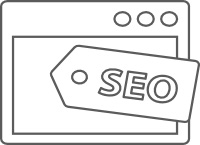 SEO Benefits. Google recommends responsive design especially to increase visibility and take advantage of Google Mobile First Indexing.
We Design Unique & Professional Websites
Custom web design involves creating a website that provides your user with a positive experience.