Exploring Facebook Business Messenger
Improve your customer experience by communicating with them in real time!
Do you utilize Facebook Messenger for your business? If not, it is a great new way to connect with your customers and prospects on Facebook. Messenger for business pages allow you to have easier an instant one-on-one customer service experience, while also keeping record of your conversations. Profile owners can respond to anyone who has commented on their content, privately or publicly. You are also capable of direct messaging your audience which is extremely powerful- most people are accessing Facebook from their mobile devices about 14 times a day!
How can Messenger help your business?
Acquire Customers
Facebook Messenger will help you simplify your customer acquisition process by providing you with a direct and conversational way for people to take action where they already spend most of their time.
Enable Transactions
Messenger allows you to provide an in-store experience of speaking to a salesperson with the convenience of shopping online. You can respond to inquiries and recommend relevant products to build trust in your business and increase your sales.
Drive Awareness
The opportunity to build an experience on Messenger aids in promoting your business, product, or service in front of more qualified people. Whether you are launching a new product or driving brand awareness, conversations with your audience will create a meaningful connection with your business.
Show Customers You Care
When you integrate Messenger into your customer service strategy it allows your customers to communicate with your business on their terms. They do not have to wait on hold or keep your website window open. The conversations will stay in Messenger, an easily accessible spot for questions and re-engagement.
How To Set Up Your Business Messenger
Step 1: Enable Messages on Your Page
You will need to enable Messenger on your business profile to accept and send messages. To turn this on for your page, go to Messages under General Settings and click Edit. You will want to select the option to allow messages to your page and click Save Changes. Make sure that you have some time set aside to engage and answer with your messages or you have the option to use the 'Away' setting.
Step 2: Configure Your Message Settings
Next, configure settings for Response Time and Instant Replies. To edit these, you will go to Settings and then Messaging.
Display a Response Time– this is the average response time it takes your business to reply to a particular message. This will be shown on your page in the About box on the left side of your page- "Typically replies within ____". To set your response time for your page you will go to Settings and Messaging. Then, click Automatically Show Your Average Response Time for Messages or select a better fitting option. You will be able to set your messaging status to Away during your off hours, so it does not reflect your response time stats. To enable this feature, go to your page's Messages and toggle on Away in the upper left corner. This will remain off for 12 hours, but you have flexibility to turn back on sooner if you'd like.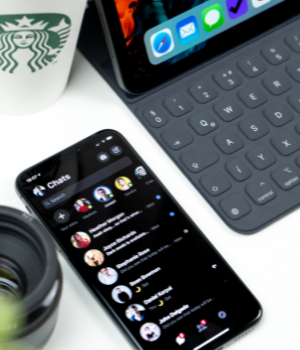 Send Instant Replies– another great feature for Business Messenger is you can set instant replies to go to people the first time they message your page. You can find this and edit right below the Response Time under Messaging. You have up to 250 characters, save it and then click Use Instant Replies to enable.
*Note here is that if your status is set to Away the autoreply will not send.
Step 3: Create Saved Replies
A way to help save you some time is to write your messages ahead of time and save them. It helps you look professional and timely. Also, it allows you and anyone on your team to quickly and easily reply to anyone who contacts your business via Business Messenger. To streamline your Facebook communication strategy, write and save a multitude of responses so even if you are busy, you can click and send a message quickly. If you notice you are getting the same questions over and over, you can create personalized form response. To use one of your saved replies, click the message you want to reply to and click on the dialog bubble at the bottom right and then click a saved reply to add it to your conversation.
Step 4: Learn About the Users Who Message You
Facebook has made it super simple to personalize your communication by providing personal details of the people who are messaging you, located to the right of their message. It provides links to their profile and tells you if / when the person has engaged with your profile, any previous communication, where they work, went to school, and live. How cool is that!?
See what ways you can to make an extra connection through a personalized message by utilizing the information provided to you. Maybe they live in the same city, went to the same school, or you have a friend that works at their company. This is where you can really differentiate yourself and improve your customer experience.
Step 5: Add Notes and Keywords to Conversations
The capabilities do not stop there! You are allowed to add keywords so you can easily manage your conversation. Click on Enter a Keyword, then either choose 'Important', 'Follow Up', or add your own keywords as identifiers. You are also allowed to Add Notes to help keep track of your conversation details and interactions. Once you insert your information and confirm, they will show up in that section.
The Notes and Keywords are great for multiple admins managing customer care and troubleshooting issues. They allow you list what problems a customer has had before and show detailed notes to ensure a seamless experience for a customer across multiple admins.
Now you are ready to improve your customer experience by implementing this fun new marketing strategy! This tool is great for instant contact and connection with your prospects and customers. Make sure to keep an eye out for a new comment tab that allows you to flag comments that need follow-up!
Are you Looking for Other Creative Marketing Strategies to Help Drive Sales? Contact Our Marketing Team to See if We Can Help Out in Any Way!