SSL Certificate or Secure Socket Layer Certificate Protects Your Company & Your Customers!
Shannan K. DuShane | December 6, 2016 | Spectrum Net Designs, Inc.
Running a business can get expensive, and choosing to move up to online sales through an e-commerce website can increase that cost.  There are a lot of things you need to know and be aware of when you open shop online, if you've been told that e-commerce websites are cheap, then you've been communicated some wrong information.  It isn't terribly expensive but there are more costs than a regular website and more security and legalities needed than a normal website.
Most online shoppers are very careful and want to know that their information is safe. Using an SSL certificate provides two important things:
Encryption of sensitive data like credit card numbers and personal information
Some assurance to your customers that you are trustworthy (the process of getting an SSL certificate can't guarantee this, but it can make it more likely which is part of the reason why visitors have this perception) (SSLShopper.com)
SSL certificates or secure socket layers have many different options too, there are different types of certificates, including shared certificates and multi-domain certificates. Online security is essential to conducting business online — and it's foremost in the minds of your customers. Check out Network Solutions they have 5 types of SSL certificates and each one is specific to the customers' needs.  If you have more questions it is a good idea to get on the phone with the company and let them explain each one before making an uneducated choice.
Today, running a successful business online requires that you make Internet security a top priority. Customers need to feel confident that their personal information and credit card numbers are safe from hackers. Network Solutions® offers a wide variety of SSL Certificates to meet your online business needs. The right SSL Certificate is available to give both you and your customers peace of mind. Learn more about which SSL Certificate may be best for you.
You can also invest in a site seal, this gives your business instant credibility and shows your customers that your identity has been verified.  This is an extra step, but when you think about it, ANYONE, yes even scammers can get an SSL Certificate, why wouldn't you want to show your customers credibility.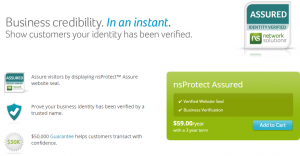 Do your research and know what can happen if you aren't protected.  It could take down your business you worked so hard to build.
 When you have a website, you have a certain responsibility to your customers to ensure their safety, if you have a website form or a login form on your website that logs them into an account that stores sensitive information such as names, address, username and passwords, credit card information, ect, that login page needs to have security as well.  If they use their username and password on an unprotected – unsecured page, then hackers can see their login and use it on the site to purchase stuff, but also possibly on other websites, since many times customers use the same password on other sites. That is why it is important to have different password and change them every few months to ensure your accounts stay secure.
In the long run, you will be happy you invested the time and money in developing your e-commerce website correctly and securely.  Without the certificate and other security measures you are vulnerable to fraud, being sued and legal costs which can outweigh the cost of the initial and ongoing cost for your SSL certificate and other safety measures.
Happy Marketing!