Recommended Social Media Image Size Guide
Do you create social posts for your business or other clients? Then you understand the struggle of keeping up with social media image sizes. One minute you have the perfect cover page image and then the next it is elongated and pixelated. We are here to help!
Why is the correct social media image size so important?
There are many hoops to jump through when your brand is responsible for creating great visual content for your social media marketing strategy.
Copy right laws- it is very important your selected images don't defy copyright laws.
Original Imagery- If you are not able to use original imagery, you can find high-quality stock pictures.
Social Media Image Performance Tools- Now once you have the picture you'd like to use for your campaigns or posts, it's time to find tools out there that can help elevate your social media image performance.
Apply the Right Image Standards
• It avoids awkward image stretching and pixilation. Which keeps your images looking professional.
• Your images will be optimized for social channel's feed. This will help increase engagement.
• It certifies your audience sees the whole image. The incorrect sizing could cut off parts that you intended being promoted.
 Social Media Image Sizes Cheat Sheet
Facebook Image Size Guide
Featuring high-quality imagery on Facebook demonstrates to your audience that you business is legitimate, reputable, and pays attention to details! Facebook tends to update their image sizing frequently. The best practice for this is to future-proof your brand's content to always upload the highest-quality image you can.
Profile Photo 170 X 170 Pixels
Cover Photo 851 X 315
Posts/ Timeline Photos 1200 X 628
Stories 1080 X 1920
Profile Photo 170 X 170 Pixels
Cover Photo 851 X 315
Posts/ Timeline Photos 1200 X 628
Stories 1080 X 1920
Instagram Image Size Guide
Instagram is all about the visuals! Meaning it's very important to post high-quality images. Instagram supports square, horizontal and vertically oriented images. Instagram was known first for their square images when they first launched. They give your brand options to work with when it comes to sizing but also makes the image dimensions a little tricker.
Profile Photo 320 X 320 Pixels
Stories 1080 X 1920
IGTV 1080 X 1920
Thumbnail 161 X 161 Pixels
Feed / Carousel / AD Image Sizes
These will be the same size weather you are using them for your feed, carousel, or ad images
Landscape 1080 X 566
Portrait 1080 X 1350
Square 1080 X 1080
LinkedIn Image Size Guide
Most companies make the mistake that LinkedIn is a boring professional network where your profile doesn't need that "WOW' factor. A beautifully tuned out LinkedIn profile is an invaluable asset and calling card for your brand! Important to note here that when pairing imagery with your posts or updates that will help increase engagement like sharing and commenting. Want to know why LinkedIn is NOT boring? Read our recent blog here
Image Sizes for Personal Page
Profile Photo 400 X 400
Cover Photo 1584 X 396
Stories 1080 X 1920
Image Sizes for Company Page
• Company logo 300 X 300
• Page cover 1128 X 191
• Life tab 11280 X 376
• Life tab custom modules 502 X 282
• Life tab company photo 900 X 600
• Square logo 60 X 60
Twitter is known for its real-time social buzz and extremely popular customer service and experience tools for businesses. It is well-known that if your Tweet includes an image it will consistently receive more click-throughs, more likes, and retweets than non-image Tweets. Which means that choosing the right images and creating great visual content for this platform matters! Which leads to an important factor- Twitter image sizes for 2021.
Profile Photo 400 X 400
Header Photo 1500 X 500
In- Stream Photo 1600 X 900
Ads
• Single & multi-image tweets 600 x 335 (minimum)
• Website Card Image 800 X 418 for 1.91:1 aspect ratio. 800 X 800 for 1:1 aspect ratio
• App Card Image 800 X 800 pixels for 1:1 aspect ration. 800 X 418 pixels 1.91:1 aspect ratio
• Carousels 800 X 800 pixels for 1:1 ratio
• Direct Message Card 800 X 418 pixels for 1.91:1 aspect ratio
• Conversation Card 800 X 418 for 1.91:1 aspect ratio
Snapchat Image Social Size Guide
With over 187 million daily active users, Snapchat provides businesses with a visual way to connect with their target audience. If your target audience includes the younger demographic this is a great platform to utilize. Hootsuite reported in 2018, around 71% of Snapchat users were under 34 years old .  You will need to create a business account only if you plan on using Snap's advertising features.
Profile Picture- Snapchat does not allow you to upload your own profile picture besides using Bitmoji. 
Shared Image Size 1080 X 1920 Pixels
Image Ad 1080 X 1920
Video Ad 1080 X 1920
Geofilter 1080 X 1920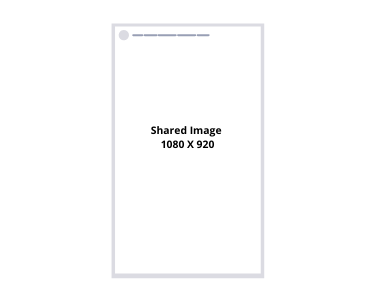 Pinterest Image Size Guide
Pinterest is an amazing social took for driving referral traffic to your site. This is mostly the case because 90% of Pinterest pages are external links. So it is very important to make sure you stay up to date with optimizing your Pinterest page regularly and using proper image sizes for your boards and pins.
Profile Picture 165 X 165 Pixels
Profile Cover Photo 800 X 450 Pixels
Pin Size 1000 X 1000 Pixels
Board Display Photo 222 X 150 (large thumbnail)
55 X 55 (smaller thumbnail)
Story Pins & Fleets 1080 X 1920
Ads and Carousels
• App Install Ads 1000 X 1500 Pixels
• Carousel Pins and Ads 1000 X 1000 OR 1000 X 1500 Pixels
• Shopping Ads 1000 X 1500
*Learn more about the Pinterest Social Size Guide  
We understand that this is a lot of information to retain so we suggest bookmarking this page for future reference. You now will have a readily available guide to help with your social media image sizing!
Another trick here is to repurpose your top engaged posts (that are sized correctly) into different posts BUT use the same content! The key to creating endless & correctly sized content- repurposing what you have already created. Working smarter not harder!
Need Help with Your Current Social Marketing Strategy?