New Facebook Features and The Ones We Miss
Facebook seems to be almost a necessity for businesses today. It opens up a wide gate to audiences you might not reach as well as options for simple and straightforward advertising. Because Facebook is so widely used in the world today by both normal everyday users as well as businesses, it seems to always be updating, changing, improving, and adding new features – not to mention taking away old features as well. Sometimes it can be challenging to keep up with all the new changes and features that continue to show up. We want to walk with you through some of the newest Facebook features that have shown up over the last couple years as well as the ones that we miss.
The Facebook Educator Hub
This new feature called the "Educator Hub" is a completely free online resource for anyone to use to help them become more educated about the things happening in today's world. There are resources that cover topics about racism, self-care, and community wellness. Along with various resources for both teachers and students to stay connected in this unique time of Covid that we are all experiencing.
With the Corona virus still gripping the nation, the popularity and necessity of online events has grown exponentially. Facebook has now pushed out a new feature for businesses hosting events. The new feature allows businesses to create online events, promote them, sell tickets to the event, and even host them all from one specific area on your Facebook page. Talk about simple right? To see if this is something your business page qualifies for, click here.
Music Videos Now in Watch
Now in the US you can find your very own "music" section within your Facebook Watch. This new feature shows off thousands of both new and old music videos as well as global music video premieres. No need to head over to Youtube to watch your favorite artist, just head over to the music tab and check out the latest releases as well as your classic favorites. Not only can you search for the music you want to watch, but now there are music video playlists available as well.
Updated Ad Preferences Coming
Facebook's director of product management, Rob Leathern posted on twitter on August 18, stating an upcoming feature for Ad Preferences which will allow a more simple and straightforward approach to a user's ad preferences allowing them to remove interest categories and see fewer ads or even remove advertisers specifically so you do not see their ads at all!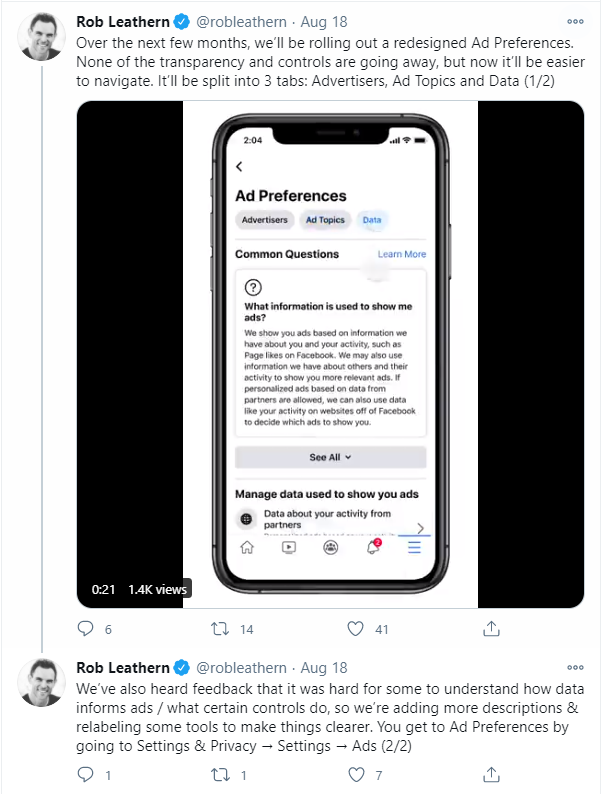 Facebook Features We Miss...Or Don't
Facebook notes…does anyone remember those? A feature that was Facebooks feeble attempt to start a blogging platform that never really caught on. I remember going into high school and a bunch of my friends used it as a way to post their schedules to see who had classes with who. It never really caught on to be a blogging platform like Facebook wanted. Although Facebook notes are still technically "live" they are quite hidden within the navigation.
Facebook virtual gifts was a 3-year program that allowed you to pay and send virtual gifts to your friends. Keep in mind it was just a picture of an item, maybe a soda or a cake. Believe it or not, Facebook was making money off of it too – but it did not last for too long. Discontinued in 2010 virtual gifts no longer exist and have been replaced with other ways to honor your friends, for birthdays Facebook has recently implemented "stories" you can write your well wishes to your friend and it will post to their story.
Oh yes, the Facebook Poke. The action to just nudge any of your Facebook friends. To this day we still aren't too sure about what the purpose of the Facebook poke was, but many people got involved in various "poking wars" with their friends over the years.
Over the years Facebook has changed, transformed, adjusted, and adapted to the changing culture and people using the platform. There are features that we miss, and others that just seem a little too cringeworthy, that we'd rather forget – but all in all we love how Facebook continues to think about their users and continues to try and make their experience the best it can be.
Did you know that we offer Facebook advertising to people and businesses who are looking to grow? Our marketing team has extensive experience with social media marketing in both paid and organic settings. Contact us today to learn more.
Ready to Learn More About Social Media Marketing For your Business?