Do I Need A Content Management System?
I'm a small business…so do I really need to have a
Content Management System (CMS)?
Does a Small Business Owner Need a Content Management System?
As a small business owner, you've weighed the decision To Have or Not To Have…A Website. After considering all the options, you decided that even though you're small, you really don't want to stay that way. You really do want…
…to be noticed.
…to grow into something bigger..
…to make your brand known.
…to service your customers 24/7.
…to expand beyond your physical store.
…to attract more customers.
In other words, even though you're small now…you've decided you want to grow. And if this is so, you don't want to your website to stay small, either.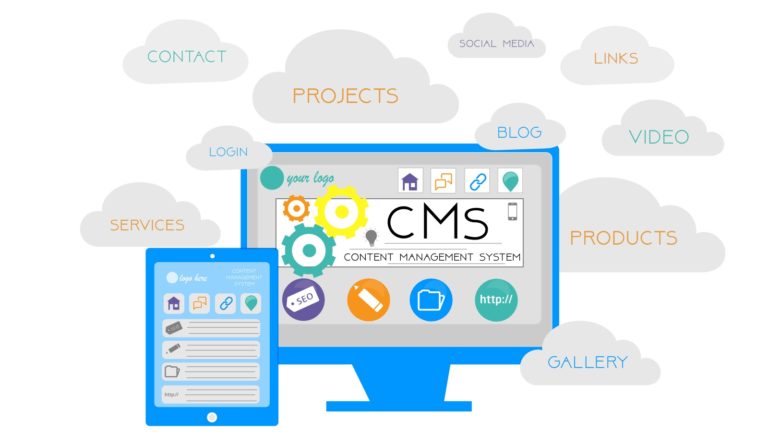 So as you grow, your website has to grow with you.
But how?  Where do you start?
It's been established that "Content is King" and that Google's main goal (as is yours) is the best possible user experience for those searching their search engine. So you know that the best way to grow your website is to add content: whether it's articles, video, infographics, blog posts, charts, tables, testimonials, reviews, or whatever else you think might be of particular value to your customers.
But…do you have to have your website developer make all the changes?
Are they the best or only answer to adding content to your website?
What Is a Content Management System (CMS)?
In simple terms, a Content Management System, or CMS, is a web application that is designed to make it easy for non-technical users to add, edit, and manage their website on their own. These software products can range from being simple and quite reasonably priced to those that are complicated and quite expensive.
In other words, the right CMS system makes it possible for you to learn to edit, add images and blog posts, and even add or delete pages without having technical or programming experience. In fact…
If you learned how to email…you can learn how to use a CMS.
So if you need or want to put the following on your website yourself…
Articles
Blog posts
Charts
Tables
Testimonials
Reviews
Infographics
Images
Videos
Press releases
New products
New services
…you can! And, if you plan on making updates more than once a week or have updates that are time sensitive and need to be published immediately without having to wait for your web development company to find time to post them:
Then, you definitely should consider a Content Management System.
What Must the CMS Include?
In addition to being simple to use – the whole reason for you being able to do it yourself – the CMS should also have the following features:
Design templates
Editing tools
Multiple user management
Available upgrades
Versioning system
SEO-friendly components
The design templates makes adding your content easy to create as well as keep them consistent with your website. The editing tools help create, edit, and publish new web pages, blog posts, articles, press releases, etc. Multiple user management is essential if you want to have several different people have access and the ability to add or change different parts of your website. The program should also have access to upgrading  by easily adding new plugins or functionality to the CMS. A versioning system provides the history of all changes made to a page so if a mistake has been made during updating, you can "roll back" to the previous correct version. Finally, the CMS must also be search engine optimization-friendly so that you can easily optimize your site. If your newly added content is optimized correctly, the search engines will be able to index your website.
How Must the Right CMS Support SEO?
Since starting his company, Bruce Clay, Inc., on his dining room table over 20 years ago, Bruce Clay has become one of the biggest names in Search Engine Optimization. He's even been credited as to having created the term though he prefers to refer to himself as the "Grandfather of SEO". In a webinar presented on August 24, 2016, entitled 10 Tips to Improve Your SEO with a Web CMS, Clay points out that the priority of SEO is to get searchers to your website in order to convert while the power of the CMS is to "improve your site's ranking signals."
Jessica Lee, a member of Clay's staff, states the following in Back to Basics: SEO-Friendly Web Development – How Silos and the CMS Can Make or Break Your Site:
"Many people don't realize just how important the right content management system (CMS) can be to an SEO campaign. A good CMS allows the search engines to crawl and index a site with ease, as well as gives the Web marketing team full control over key elements in SEO, such as Meta information, HTML code and URLs."
Lee goes on to explain some of the key elements the CMS must allow you or your marketing team to have full control over:
Meta information
HTML code
URL structure
Title and heading tags
ALT attributes
According to Brent D. Payne, another member of  Bruce Clay, Inc., some other essential SEO elements to be controlled include:
SEO key phrase
Breadcrumbs
Body text
Canonical tags
301 direct
Meta no follow/follow
Choosing the right Content Management System must include the ability to control crucial elements that will positively affect your site's SEO. If not, the search engines will have difficulty indexing your site, and you'll have lost the advantage of having a CMS in the first place.
What Are Some of CMS Options?
As a small business owner, you have several Content Management Systems available depending on your design specifications, budget, and long term plans. Some of the more popular are as follows:
WIX
Squarespace
WordPress
Joomia
Drupal
Magneto
Blogger
TYPO3
Shopify
vBulletin
Liferay
For more information of the advantages and disadvantages of these CMS options, you can go to:
https://espresso.digital/comparing-top-small-business-cms-platforms/#.WHANKGQrKfQ

https://www.htmlgoodies.com/beyond/webmaster/toolbox/article.php/3887866/I-Want-To-Build-A-Website-Do-I-Need-a-Content-Management-System-CMS.htm
However, if you want to find out out what Content Management System we recommend for our clients, read on.
What CMS Option Do We Recommend?
So, given all of the information cited above, what Content Management System do we recommend?
WordPress
Why?
In addition to WordPress being the most popular CMS in use today, it meets all of the qualifications as discussed above. You do not need to be a web developer or tech savvy in order to use it. It fits almost any budget from free features to paying for more customized features and plugins.  The thousands of available plugins and features as well as its hundreds of available themes makes it appropriate for small businesses of all types and all sizes of websites.
And…is it SEO-friendly?
WordPress offers several reliable SEO plugins that give you control over the essential key elements needed for optimizing your site so that the search engines can find you. The most popular SEO plugin is Yoast which gives options from optimizing Meta titles and descriptions to page content and image titles and more. Another plugin is the All In One SEO Pack which also supports Google Analytics integration, customization of page titles and Meta descriptions as well as supporting advanced canonical URLs. Other available SEO plugins include Google XML Sitemaps, Google Analytics by Yoast, SEO Friendly Images, and Squirrly SEO which even provides SEO advice as you're writing your blog posts, articles, or page  content.
So the answer is, yes, WordPress more than adequately meets the standards for qualifying as an SEO-friendly Content Management System.
Benefits of WordPress
Simple to use
Affordable
Secure
Reliable
SEO-friendly
Mobile-friendly
Hundreds of themes
Thousands of plugins and features
An almost infinite customization options
Suitable for simple and complex websites
Appropriate for all types of small businesses
Conclusion
At Spectrum we recommend that that you write and add your own content since no one knows your business better than you do. Both your audience and the search engines are looking for good, quality content that satisfies the queries that are made by your users. And most importantly, your content is what sets you apart from your competitors and can turn your website viewers into paying customers.
"Great things are done by a series of small things brought together."   

– Vincent Van Gogh
The right Content Management System such as WordPress makes it possible for a small business owner to bring together a "series of small things" (blogs, videos, images, tables, infographics, etc.) to make a "great thing" (your website) that will match your growing business.
---
Sources:
https://www.spectrumnetdesigns.com/2013/10/does-my-business-need-to-have-a-website/
https://www.spectrumnetdesigns.com/2014/08/1-reason-content-king/
http://www.bruceclay.com/blog/seo-for-content-management-systems-smx-sydney-brent-d-payne/
http://www.bruceclay.com/newsletter/volume95/seo-friendly-web-development.htm
http://www.dnnsoftware.com/resources/webinars/10-tips-to-improve-your-seo-with-a-web-cms/view/webinar
https://studio5innovation.com/comparing-top-small-business-cms-platforms/#.WHANKGQrKfQ
https://colorlib.com/wp/most-popular-content-management-systems/
http://www.htmlgoodies.com/beyond/webmaster/toolbox/article.php/3887866/I-Want-To-Build-A-Website-Do-I-Need-a-Content-Management-System-CMS.htm