Google Search Engine Update
What is Panda 4.0? 
And So the Virtual Zoo Expands!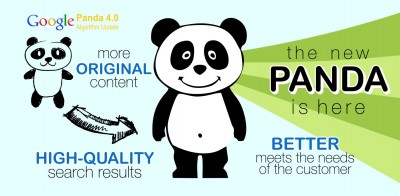 "Google is rolling out our Panda 4.0 update starting today," tweeted Matt Cutts, Head of Webspam at Google, on May 20, 2014.
A brand-new animal?Or an old one that's evolved?
Since Google first rolled out Panda on February 24, 2011, there have been at least 25 refreshed and confirmed updates.  Since Cutts specficially named this update as 4.0, it is only logical to conclude that this is a major update to the actual algorithm.
And this means what?
Since it was rolled out in 2011, the Panda algorithm has focused on penalizing websites with low-quality content as well as those websites that are low quality.  As such, Google is committed to providing their users with the highest quality sites that have proven they are experts in their field and so deserve to be in the top search results.
So, what does Google consider to be low-quality content?  This can be, but not limited to:
duplicate content
thin content
syndicated content
low-quality affiliate content
scraped content
In other words, they are looking for original content that best answers the user's query.
But, that's not all.  Google is also looking for good (excellent!) user engagement.  In addition to finding content that answers their queries, is the user able to navigate through the site easily without technical difficulties, affiliate jumps, stimulus overload, etc.?  What is their dwell time, that is, the amount of time the user spends on a website before clicking back to the search results?  If users are on a site for a particular site for a minimal amount of time, the website is most likely not meeting their needs.
So what is Google looking for?  Is there any way to please the Panda?
Meet the needs of your users.
Original content.
High-quality content.
Original content.
Meet the needs of your users.
It should also be noted that Panda 4.0 did not only penalize what was determined to be low-quality sites or sites with low-quality content.  Some sites that had previously been hit by Panda actually showed positive improvement in their SERP.  Most of these sites seem to have either worked hard to shed syndicated or duplicate content and/or written their own, original content.
All, in all, what does it take to "beat" Panda?  What should be the focus of your website?
YOUR USER. 
If your ultimate goal continues to be your user's experience and meeting their needs and not trying to spam Google, Google's virtual zoo, including Penguin and Hummingbird as well as Panda, will reward your website.
https://www.searchenginejournal.com/google-rolls-panda-4-0-payday-loan-2-0-updates/106343/
https://searchenginewatch.com/article/2345884/Google-Launches-Panda-4.0