Annual Golf Outing for the Michigan West Coast Chamber of Commerce
On July 16 we attended the annual Golf Outing for the Michigan West Coast Chamber of Commerce. The day started out very chilly so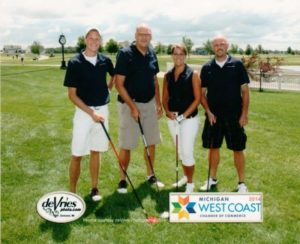 we were glad to be golfing in the afternoon!
Laura volunteered in the morning taking pictures of all the action, capturing the "Oh, no's" and the "YES!" moments. It was great to be able to meet many new members of the chamber as well as ones we have already established a great relationship with.
Brandon Kaptein was the winner of one of the door prizes! He was selected to win a Weekend Get-a-way at Chrystal Mountain!
Here are some photos of the day….Enjoy!